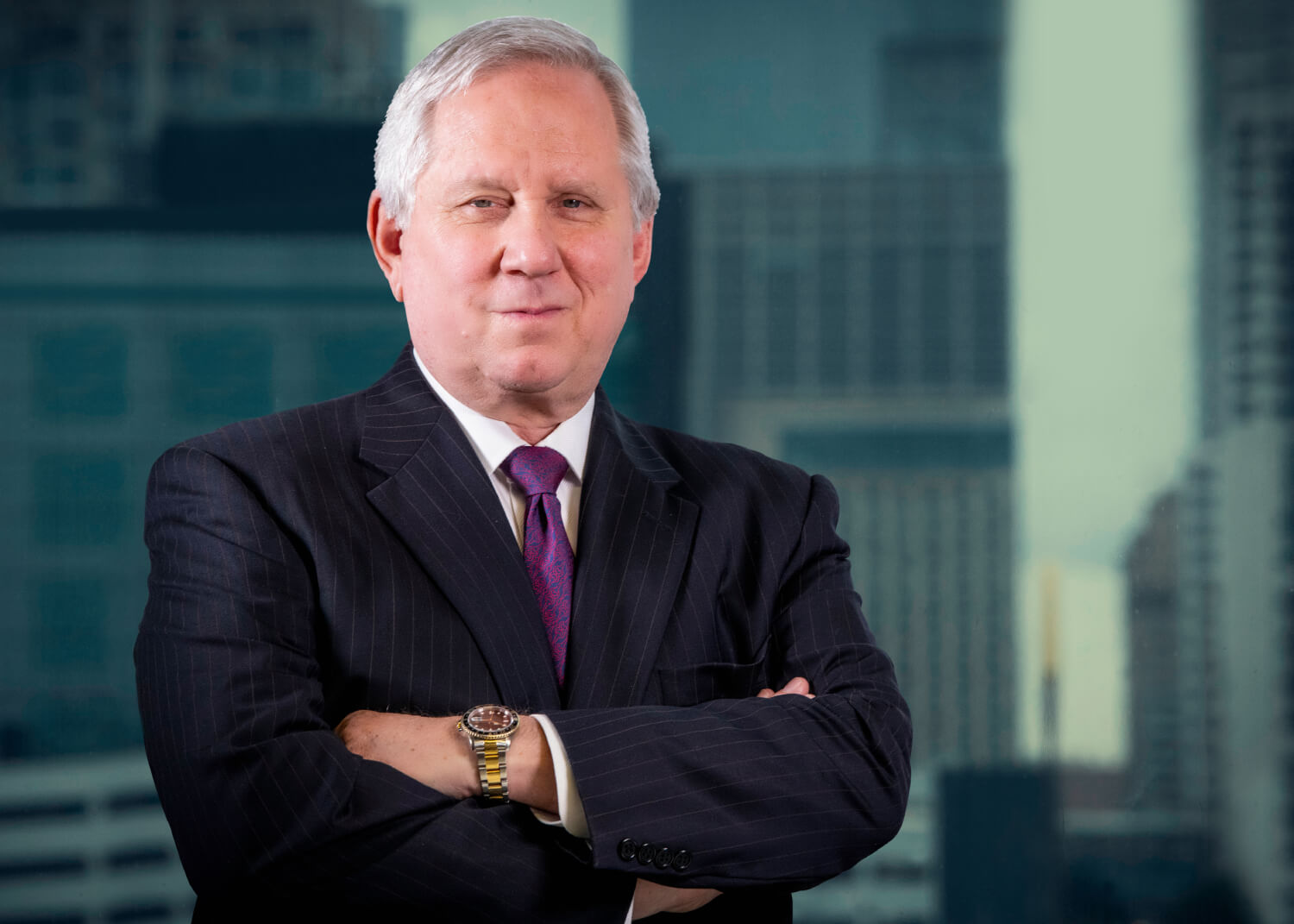 Managing Partner
James W. Christian (Wes)
Wes is managing partner of Christian Attar. He is a fourth generation Texan and has practiced law in Texas for over 40 years.
Wes has decades of experience handling a wide range of complex civil litigation matters. His primary focus in the last several years has been suing Wall Street for stock manipulation, oil and gas companies for royalty fraud, and banks for aiding and abetting Ponzi schemes. He has also handled many disputes involving breach of contract, fraud, intellectual property, breach of fiduciary duty, serious personal injuries or wrongful death actions, insurance defense, and real estate matters. Wes is proud to represent his clients, including numerous public companies, businesses, and individuals, against large adversaries.
Wes has handled complex litigation in at least eight different states and two countries. Most of these cases have been in State or Federal Courts; some have been complex arbitrations. He is licensed to practice in 14 Courts across the U.S. and everywhere in Texas and New York.
Wes was honored to serve as the Chair of the Litigation Section of the State Bar of Texas from 2018-2019 overseeing a group of 8,700 litigation in Texas.
Wes dedicates much of his free time giving back to his community and church.
PROFESSIONAL DETAILS
Keller High School, 1971
Bachelor of Science, West Texas State A&M University, 1975
Doctor of Jurisprudence, South Texas College of Law, 1978
1978 – 1979  Associate, Morris McCann
1978 – 1988  Partner, Margraves Kennerly & Schueler
1988 – Present  Managing Partner, Christian Smith & Jewell/James W. Christian, P.C.
United States Court of Appeals
United States Court of Customs and Patent Appeals
Fifth Circuit Court of Appeals
United States Court of Claims
United States Tax Court
United States District Court, Northern District of Texas
United States District Court, Southern District of Texas
United States District Court, Eastern District of Texas
United States District Court, Western District of Texas
United States District Court, Western District of Colorado
United States District Court, Delaware
United States Bankruptcy Court, Delaware
United States District Court, Southern District of New York
State Bar of Texas, 1978 – Present
State Bar of New York, 2005 – Present
American Association for Justice, 2003 – Present
American Bar Association, 1978 – Present
Houston Bar Association, 1978 – Present
Member of Advanced Evidence & Discovery Committee – State Bar of Texas, 2006 – Present
Life Fellow of the Texas Bar Foundation
Member of the Litigation Council (State Bar of Texas), 2006 – Present
Energy Institute – Speaker, 2006
Advanced Evidence & Discovery Committee – Member/Speaker, 2006 – Present
"Who We Are As Lawyers" – Speaker, 2006 – Present
Jury Awareness Committee, State Bar of Texas, 2006 – 2007
Texas Legends Committee – Chairman, 2006 – 2010
Texas Legends Committee – Co-Chairman, 2011 – 2014
Annual Meeting, State Bar of Texas – Co-Chairman, 2011 – 2012
Frequent speaker at SMU, South Texas College of Law, Texas Weslyan Law School and others on Role of a Lawyer in Our Society, 2007 – Present)
Elected Secretary of Litigation Council of the State Bar of Texas, 2015 – 2016
Articles & appearances
Publications, Speeches & Law Review Articles
Amarillo Bar Association, Amarillo, Texas; (April 28, 2016):  Preparing, Presenting and Cross-Examination of Experts.
University of Houston, Houston, Texas; (February 9, 2016): Importance of Lawyers in Society.
State Bar of Texas Legends Committee, Houston, Texas; (November, 2015): Induction of Judge Ruby Kless Sondock as a Texas Legal Legend.
State Bar of Texas Legends Committee, Lubbock, Texas; (September 11, 2015): Induction of Mary Lou Robinson as a Texas Legend.
31st Annual Litigation Update Institute, San Antonio, Texas; (January 15-16, 2015): Topic – "How to Effectively Use Expert Witnesses."
State Bar of Texas Legends Committee, Waco, Texas; (November, 2014): Induction of George Chandler as a Texas Legal Legend.
State Bar of Texas Legends Committee, Austin, Texas; (June, 2014): Induction of Bob Black as a Texas Legal Legend.
State Bar of Texas Legends Committee, Lubbock, Texas; (April, 2014): Induction of Forrest Bowers as a Texas Legal Legend.
Litigation Update, Austin, Texas; (January, 2014): Topic – "15 Keys to Winning a Jury Trial"
State Bar of Texas Annual Meeting, Dallas, Texas; (June, 2013): Induction of Honorable Royal Furguson and Francis Scott Baldwin Sr.
Litigation Update, Austin, Texas; (January, 2013): Topic – "Becoming a Texas Legal Legend."
Litigation Update, Dallas, Texas; Houston, Texas (January 19-20, 2012): Topic – "Who We Are As Lawyers."
2009 Advanced Evidence and Discovery, Houston Texas:  Topic – "Musical Chairs: Apportioning Responsibility."
Advanced Evidence and Discovery, Houston, Texas; San Antonio, Texas (May 22-23, 2008):   Topic – "Expert Witnesses."
Advanced Evidence and Discovery, Houston, Texas (April 19-20, 2007); Dallas, Texas (May 3-4, 2007); San Antonio, Texas (May 17-18, 2007):  Topic – "Daubert Challenges."
Committee Member Jury Awareness State Bar of Texas, Houston, Texas, 2006-2007  Topic – "The Importance of Our Great American Jury System"
University of Houston Law Review; Spring, 2007; Naked Short Selling: How Exposed are Investors
Advanced Evidence and Discovery, Houston, Texas (April 19-20, 2006); Dallas, Texas (May 3-4, 2006); San Antonio, Texas (May 17-18, 2006):   Topic – "Internet Discovery and how to use it."
Advanced Evidence and Discovery, Houston, Texas (April 26-27, 2006); Dallas, Texas (May 11-12, 2006); San Antonio, Texas (May 25-26, 2006):   Topic – "Extra-Jurisdictional Domestic and International Civil Litigation: A Guide for Practitioners"
Energy Institute Seminar, Houston, Texas – February 16-17, 2006:   Topic- "Alien Tort Claims and Other Ways to Obtain Jurisdiction Over Foreign Corporations Affiliated with U.S. Corporations"
Firm News & Articles
Jennifer Hiller, Suits on Royalties Emerging in Shale, SAN ANTONIO EXPRESS-NEWS, Mar. 14, 2016
Liz Moyer, Signature Bank is Sued Over Ties to Ponzi Scheme, NEW YORK TIMES, Feb. 24, 2016
Insolvency, Regulatory, The Enablers of the Fraudsters, Part 1, ALLABOUTALPHA, Sept. 1, 2015
Helen Avery, JPMorgan's Trading Loss Proves Volcker Rule Won't Work, EUROMONEY, May 24, 2012
Joe Meyers, "Naked Short Selling" Probed in New Documentary, THE NEWS-TIMES, Apr. 12, 2012
BofA, Goldman, Others Settle Taser Short Selling Suit, LAW 360, Jun 20, 2011
Helen Avery, Banking: Litigation Could Seriously Damage Banks' Health, EUROMONEY, Apr. 15, 2011
Christopher Faille, But What if Compliance Officers Do Their Jobs, HEDWORLD.com, Apr. 15, 2011
Michelle Massey, Marshall Lawyer Sue Beaumont Accounts After Losing $6M in Market Collapse, THE SOUTHWEST TEXAS RECORD, Oct. 12, 2010
Frank Geary, Police Union Paid Top Dollar for New Offices, LAS VEGAS REVIEW-JOURNAL, Aug. 2, 2009
Christopher Faille, Christian Reflects on Mangan,Gryphon, HEDGEWORLD.com, Jan. 9, 2008
John R. Emschwiller and Kara Scannell, Blame the 'Stock Vault'? Clearinghouse Faulted On Short-Selling Abuse; Finding the Naked Truth, NY SUN, Jul 5, 2007
Judith Burns, SEC Economists Reject Claims On 'Naked' Short Sales, DOW JONES NEWSWIRES, Apr. 23, 2007
CFO Staff, Naked Hunch: Overstock.com kicks its fight against short-sellers up a notch; the PCAOB debates the merits of mandatory fraud audits; state health-care reforms could cause headaches for Corporate America; and more, CFO MAGAZINE, Apr. 01, 2007
Christopher Faille, Grassley Touts Regulation on Behalf of 'Average Joe', LIPPER HEDGEWORLD, Mar. 08, 2007
Danny King and Gary Matsumoto, Overstock.com Sues Brokers for Stock Manipulation, BLOOMBERG, Feb. 2, 2007
Liz Moyer, Naked Short Victim Strikes Back, FORBES.com, Feb. 2, 2007
Joseph Sternberg, Naked Shorting, NY SUN, Aug 29, 2006
Bob Drummond, Games Short Sellers Play, BLOOMBERG, Aug. 16, 2006
Judith Burns, Legal Wrangling Continues In Case Vs. Ex-Refco Brokers, DOW JONES NEWSWIRES, Aug. 8, 2006
Kara Scannell, 'Not MY Stock': The Latest Way to Fight Shorts, THE WALL STREET JOURNAL, Aug. 2, 2006
Liz Moyer, Hedge Fund Hell, FORBES, Jul 28, 2006
The Economist Staff, Betting on losers, THE ECONOMIST, Jun 22nd 2006
Joseph Sternberg, Loaded for Bear, NY SUN, May 23, 2006
Dan Dorfman, Justice Department Eyes Overstock.com Fight, NY SUN, May 22, 2006
Dan Dorfman, Overstock.com May Seek $1 Billion From Rocker Partners, NY SUN, May 12, 2006
Todd Mason, SEC wants to know if backers made money by trying to kill it, PHILADELPHIA INQUIRER, Apr. 23, 2006
Todd Mason, SEC says brokerages manipulated shares, PHILADELPHIA INQUIRER, Apr. 5, 2006
Jane Sassen, The Secret Lives of Short Sellers: the Rise of Hedge Funds and Indie Research Raises New Questions About a Shadowy World, BUSINESS WEEK, Apr. 10, 2006
Daniel Kadlec, Watch Out, They Bite!  How Hedge Funds Tied to Embattled Broker Refco Used "Naked Short Selling" to Plunder Small Companies, TIME, Nov. 14, 2005 (SPECIAL ISSUE: INSIDE BUSINESS, December 2005)
Helen Avery & Peter Koh, The Curious Incident of the Shares that Didn't Exist, EUROMONEY, Vol. 36, No. 432, Apr. 2005
Helen Avery, SEC Seeks to Curb Naked Ambition, EUROMONEY, Vol. 36, No. 432, Apr. 2005
Peter Koh, Stung by the German Connection, EUROMONEY, Vol. 36, No. 432, Apr. 2005
Rob Wherry, Wall Street's Next Nightmare? Flamboyant Litigator John O'Quinn is Gunning for Another Bonanza: The Entire Trading System in Penny Stocks, FORBES, Oct. 13, 2003
Edward Robinson, The Outsiders, BLOOMBERG MARKETS, Jul. 2003
Matthew McClearn, Predator or Prey?  Amid a Flurry of Lawsuits and Countersuits, the Murky world of Death-spiral Financings-Ones in Which Toronto Financier Mark Valentine Loomed Large-is Coming to Light, CANADIAN BUSINESS, Oct. 28, 2002
Brandon Copple, Sinking Fund. Have Financiers Torpedoed Struggling Small Companies They Were Supposedly Helping?  Lawsuits Raise Some Ugly Accusations, FORBES, Jun. 10, 2002
Radio Appearances
Tim Connolly's Winning Strategies – Re: Stock Fraud on Wall Street , April 29, 2011
Tim Connolly's Winning Strategies – Re: Spiraling costs of litigation and how "David can still fight Goliath", Feb. 11, 2011
Tim Connolly's Winning Strategies – Re: Insider Trading Issues, Dec. 3, 2010
Tim Connolly's Winning Strategies – Re: Mortgage Fraud, Nov. 5, 2010
Tim Connolly's Winning Strategies – Re: FIN REG, July 30, 2010
Tim Connolly's Winning Strategies – Re: Naked Short-Selling, June 3, 2010
Tim Connolly's Winning Strategies – Re: Flash Crash, May 7, 2010
Documentaries
Brown Saddle Films, Wall Street Conspiracy
Bloomberg T.V. Special, Phantom Shares
Sandra Mohr, Mohr Productions – Stock Shock
T.V. Appearances
Brown Saddle Films, Wall Street Conspiracy